New Zealand has revealed plans to reconnect with the rest of the globe in the coming months. What does this mean for Kiwis in Australia who are living or have been stranded there?
Prime Minister Jacinda Ardern stated on Thursday that the government will reduce COVID-related border restrictions in five stages beginning in late February.
Throughout the pandemic, the strategy will reconnect families separated by some of the tightest border regulations applied anywhere in the world.
It is also hoped that the changes will provide a much-needed boost to industries such as tourism and higher education.
So, what does this mean for Kiwis in Australia who are living or have been stranded there?
What does this portend for future trans-Tasman travel?
What have the limitations been thus far?
Foreigners have been mainly prevented from entering New Zealand for the previous two years, while natives have had to apply for a space in hotel quarantine or an emergency exemption.
Slots in so-called managed isolation and quarantine (MIQ) facilities are awarded at random to a small number of applicants, prompting the opposition Nationals Party to brand it a "lottery of human agony."
The method was brought to light last week when journalist Charlotte Bellis spoke out against being denied entrance to New Zealand despite being extremely pregnant.
After her situation made international news, she was subsequently awarded a slot in MIQ through an unique exception.
While Australia and New Zealand developed a travel bubble throughout the pandemic, it was repeatedly stopped and discontinued owing to new coronavirus infections.
NZ had intended to reopen for quarantine-free foreign travel in mid-January, but the move was postponed due to the spread of the Omicron variant elsewhere.
Now that over 94% of New Zealand's eligible population has taken two shots of the anti-Covid vaccine, the government will permit thousands of locked out Kiwis to return home.
What will happen and when will it happen?
Fully vaccinated New Zealand nationals and Australian visa holders will be able to enter beginning at 11:59 p.m. on February 27.
They will be obliged to sequester themselves for ten days.
"New Zealanders from Australia are coming home on February 27 and all planning heads towards that," Ms Ardern said.
Vaccinated New Zealanders and people from the rest of the globe will be able to self-isolate beginning March 14.
Partners and dependents of New Zealand citizens and residents, as well as those engaging in working holiday programmes and select skilled professionals, will be permitted to enter.
Offshore temporary visa holders from other parts of the globe, as well as up to 5,000 international students, will be permitted in beginning April 13.
However, it is possible that all Australians, including tourists, may not be able to return to New Zealand until July.
"We anticipate this stage will begin no later than July. I want to place strong emphasis on this being the latest we expect this to begin," Ms Ardern added.
"There is a high likelihood of this date coming forward as we progress through the next stage of the pandemic."
From October, all other overseas tourists will be able to enter New Zealand.
MIQ will continue to be required for government-designated "high-risk" travelers, including those who are unvaccinated.
Due to vaccination restrictions imposed by Air New Zealand, Qantas, Virgin Australia, and other airlines, unvaccinated travelers will find it impossible to fly to New Zealand in the first place.
Armed forces personnel from New Zealand will begin their withdrawal from MIQ, with Ms Ardern stating that certain hotels will be returned to "to traditional use to support the return of our tourists".
What does this mean for Kiwis in Australia?
It has far-reaching repercussions for the hundreds of thousands of Kiwis in Australia, as well as other New Zealanders living abroad.
Prior to COVID, residents of Australia and New Zealand have enjoyed unrestricted movement between the two nations since the 1920s.
As of mid-2018, an estimated 568,000 New Zealand-born persons lived in Australia, making them the country's fourth-largest migrant group.
Christel Broederlow is a Gold Coast resident who maintains a Facebook page for the Mori community in Australia.
She said the news on Thursday had been welcomed with "elation" by Kiwis in Australia, but that many were concerned that the situation may change again at any time.
She said many New Zealanders were desperate to return because they had lost their jobs in Australia due to the pandemic, and that many aren't eligible for government assistance because they haven't been in Australia long enough.
"It's it leaves them stranded, a lot of them that sold everything, that sold their homes and their flights only for New Zealand government to announce their postponement."
Ms Broederlow and her husband had intended to return to New Zealand in 2020 to be closer to her aging father, but their plans were thwarted by border closures.
Ms Broederlow has been unable to visit New Zealand since her father was diagnosed with lung cancer.
"I believe the New Zealand government hasn't seriously considered the health and wellbeing, or mental wellbeing of the people — New Zealand citizens — that have been left stranded in Australia and also the world."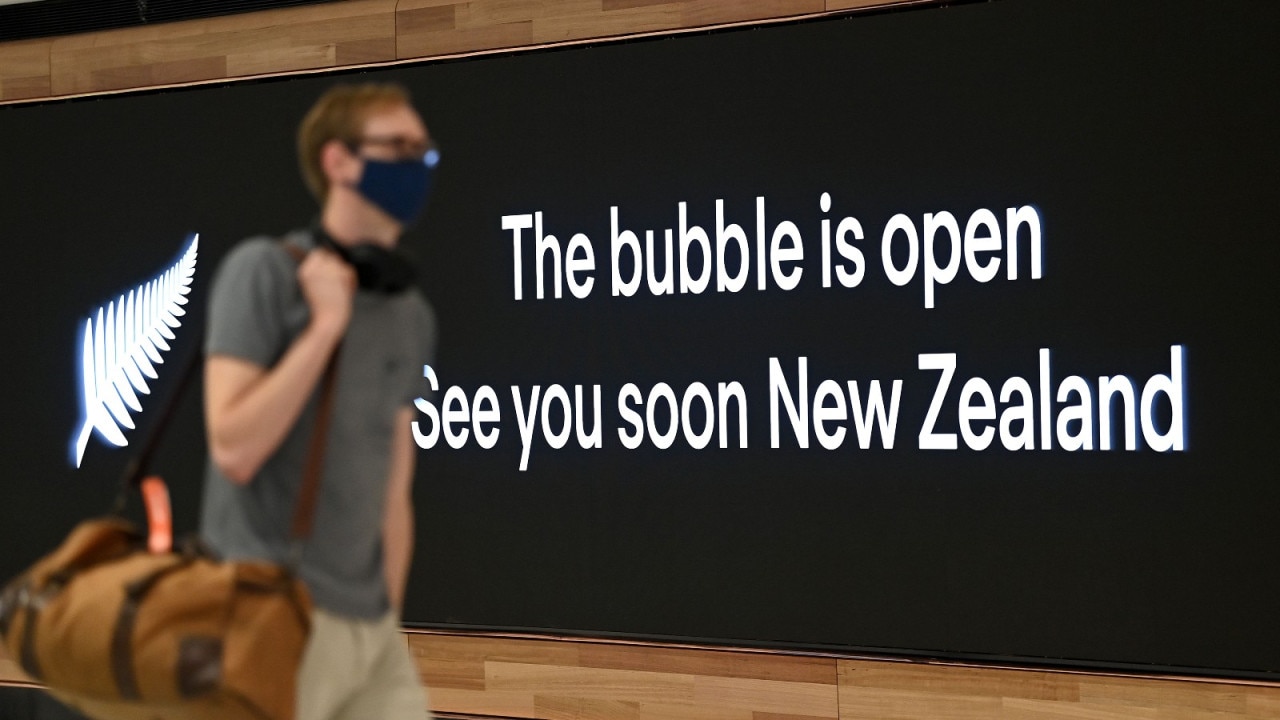 Martin Newell's mother, who lives in Melbourne, was recently admitted to hospital in New Zealand for heart failure.
"That was exceptionally stressful, not just being able to jump on a plane and be with her," he told the media.
What would be the economic impact?
Prior to the pandemic, tourism was New Zealand's greatest export business, and a substantial majority of its visitors were Australian.
Tourism directly employed about one out of every ten New Zealanders.
In 2019, 1.5 million Australian visitors arrived in New Zealand, accounting for 40% of all overseas visitors and spending $NZ2.7 billion ($2.5 billion).
It works both ways.
In 2019, New Zealanders were the second-largest origin of visitors to Australia.
The Queensland Tourism Industry Council's Daniel Gschwind applauded the anticipated modification of New Zealand's border controls.
"It's really important for our industry, and I would think for many families spread across the ditch here, it's very important to get our connection going again," he said.
"We're practically one market. New Zealand is often treated as almost part of our domestic network."
"It is quite, almost bizarre, that we're cut off from New Zealand while we engage with the rest of the world," Mr Gschwind said.
Tourism Industry Aotearoa welcomed the decisions, but warned that the government must be ready to lift self-isolation rules as soon as health threats subside.
While the criteria were in place, New Zealand stayed off the radar for overseas visitors, according to spokeswoman Ann-Marie Johnson.
"The need for self-isolation is questionable, especially if Omicron becomes endemic in the community as modelling suggests," she said.
"With risks equalised between New Zealand and overseas, the rationale for keeping self-isolation rules in place no longer exists."
According to a poll conducted by Tourism New Zealand in mid-2021, more than 80% of Australians interested in visiting the nation wanted to do so for a vacation, while 21% wanted to see relatives.
"I would so like to go home and hug my dad and you know, see how he is face-to-face," Ms Broederlow said, adding that she was not hurrying to book plane tickets since they are concerned about getting detained in New Zealand.
With 147 new COVID cases announced on Thursday, the country is dealing with a rising Omicron outbreak, although one that is tiny in comparison to Australia's.
As additional international travelers come, the virus is projected to spread further.
Ms Broederlow and her husband have opted to stay in Australia for the time being, fearing being separated from their boys and other family members.
"There's just too much uncertainty and it's gonna take a long time to revive the crippled tourism between the countries and economies," she said.