Ukrainian refugees in Germany are being welcomed by nationals at Berlin Central Station. They are greeted with offers of a place to stay, provision of necessities, and a comforting presence after an arduous journey to escape war.
Trains traveling from the east arrive at Berlin Central Station with thousands of refugees. Last week, 1,000 Ukrainians arrived within a short span of 20 minutes. And with each day that comes, the number of refugees increases.
According to national authorities, around 30,000 people from Ukraine have fled to Germany as of recently.
Katja Kipping, Senator for Integration, Labour and Social Affairs in Berlin, said that "we have to prepare for the fact that the largest movement of refugees since the end of the second world war is headed for Europe. What we have seen so far is only the tip of the iceberg."
Many women, children, and some men exempted from the ban on leaving the country are hoping to seek shelter in Germany. Some who arrive in Berlin plan to figure their way to other Western European countries from there.
Locals Lend a Helping Hand to Ukrainian Refugees in Germany
But it is not just the number of Ukrainian refugees in Germany that is increasing. Many volunteers are also making their way to the Central Station to hand out food, clothes, and toys and direct refugees where to go. They want to be of help as much as they can.
A couple of years ago, Germany welcomed refugees from Syria. The situation now brings back memories of such a time. The welcome culture in Germany has been invigorated once more.
Last week, Iman Abdikarim joined a Telegram group created for the purpose of helping refugees from Ukraine. At that time, there were only 17 members. There were also no concrete plans yet on what they could do.
However, they were quick to respond to the situation. When the morning of Friday came, he was already at the Berlin Central Station to provide guidance to refugees amidst the chaos. At the same time, what was once a 17-member group exponentially increased by more than a hundred times over. There are now around 8,000 members all working together to be of assistance to Ukrainian refugees in Germany.
The days-long work isn't dampening her spirits. Providing comfort to refugees is worth more than the physical demands of what she has to do. Abdikarim said, "I've been working 10 hours every day this week, and I've got to work shifts at the clinic at night, but we are learning what the people who come here need."
Volunteerism is not Limited by Age
Locals carry with them signs offering food, shelter, and other necessities for the relief of refugees from Ukraine.
"Can host two people! Short or long-term," "One mama, two kids, four-six weeks," "One room for mother and child," the signs read. Locals of all ages, as young as 12 years old and even those in their 70s, welcome the refugees who alight from the train.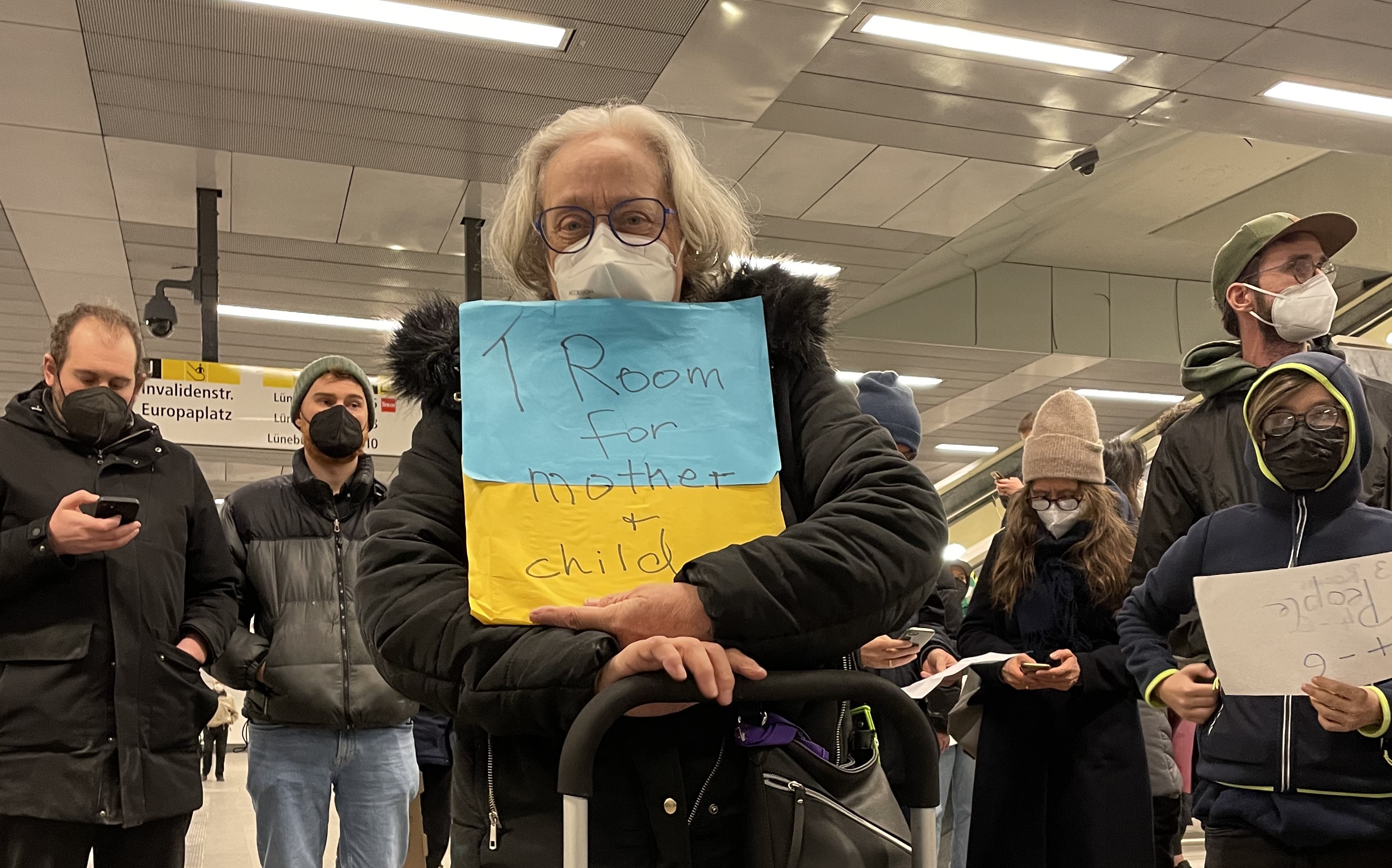 Margot Baldauf is one of the many nationals at Berlin Central Station. The Russian invasion of Ukraine reminds her of the dark times of Germany when Hitler came into power. During Nazi rule, her mother had to leave the country to safeguard her life. Her mother is now 97 years old and still alive because she was able to escape that horrific situation.
She says, "I am more or less a child of a refugee. So I feel obliged to do something for refugees. It's not Hitler this time, but for me it somehow feels like what Putin does is what Hitler did before."
There is No Shortage of Help
Despite the influx of Ukrainian refugees in Germany, there seems to be no shortage of German households willing to provide temporary shelter for them.
Matina Wardakas and Timmo Kohlery, a couple living in the suburbs of Berlin, have welcomed four Ukrainian refugees into their own home. Having two teenage daughters did not stop the family from accommodating more people.
The couple decided to free up their own room for the Ukrainian family. They now stay in one of their children's rooms, while their twin daughters are now staying in one bedroom.
Timmo says, "when we started reading the news we said, right away, we need to take someone in, to give someone peace, because it could have been us, this is how we feel."
"We have lived in peace our whole life. We don't know what it is like to live in war, it's shocking. Our first thought was we need to help a family so that they can feel safe. We will give them some peace in this house," Matina adds.
Anastasiia, together with her son Artemii and in-laws Victoria and Vladimir, are now at the home of the Kohlerys. However, her husband was left behind in Ukraine because of the implemented travel ban for men. This is difficult not just for her, but for her four-year-old son as well, who can't understand just yet why his dad is not with them.
In tears, she says that "He keeps asking every time about his dad. Where is his dad, and when he can he see him? I don't know. I hope soon."
She adds that Artemii, having received many gifts over the past few days, thinks that it's his birthday.
But it is not just her husband she hopes to see soon. Her father is still trying to find ways to get out of Ukraine and go to Germany. "And my dad, I hope I see him soon too," she says.
Even if the family of Anastasiia has found solace in Germany, the war in Ukraine is still etched on her mind. They may have physically fled the country, but the situation still follows them. She received a video from her friends in Kharkiv that showed Russian bombs damaging the home that they were living in just a few days prior. What was once a place filled with laughter and affection has turned into rubble.
The family of Anastasiia does not need to worry about how long they can stay in the home of the Kohlerys, according to the couple. They can do so for as long as they need to. Neighbors are also bringing in gifts and food for the family.
Intentions of Returning Home
Viktor Levchenko, a sixteen-year-old Ukrainian, left Kyiv together with his mother and cousin. All of them were provided a bag of flour, toilet paper, and soap by volunteers at the station. They waited for a friend who lived in Berlin to come pick them up. It is there that they intend to seek shelter temporarily.
He said that "we are working out what to do. For now, we must stay in Germany. But afterwards, we must go back."
As the situation in Ukraine continues, countries all over the world are opening their borders to accept refugees from Ukraine, with Germany being one of them. The spirit of volunteerism is well and alive in the country. Nationals are doing what they can to ease the concerns of refugees so that they can find some comfort even in the most challenging times of their lives.