Cases of doctors promoting COVID misinformation in Canada are currently being handled by the College of Physicians and Surgeons of Ontario (CPSO). There are 40 doctors in question for advertising treatment not proven for COVID-19 and communicating wrong information about COVID-19 vaccines.
This is especially crucial as the country is trying to manage the surge of infections caused by the omicron variant. Vaccination remains a key solution in preventing progression to severe diseases. The government is still trying to increase the public's trust in vaccination, and the spread of COVID misinformation in Canada is not helping.
Christine Elliot, the Health Minister of Ontario, advocates strongly against such practices by medical professionals. She states that the CPSO must exert all efforts necessary to halt doctors from continuing this COVID misinformation in Canada.
In response, the CPSO said that they are currently on top of the issue. They are already investigating cases and determining appropriate sanctions if the doctors in question are found to be guilty. They have also suspended or restricted the licenses of seven doctors to continue their practice.
The process of suspending and restricting doctors' licenses to practice is not as easy. The CPSO should clearly prove that the doctor's actions are harmful to patients or need to be limited to provide protection to the general public.
In 2020, the CPSO received 2,832 complaints about physicians. Around half of these complaints have been addressed since they found no evidence that the actions of the physicians were dangerous to the safety of patients.
COVID Misinformation in Canada Backed by Licensed Doctors
A handful of doctors are also promulgating false information on the adverse effects of the COVID-19 vaccine. They share information on blood clots and myocarditis that has not been verified. Others are also creating false medical certificates so that patients can be medically exempt from receiving the COVID-19 vaccine or from wearing a mask. Some also share information that the COVID-19 vaccines cause the deaths of children.
Four doctors, namely Rochagne Kilian, Mary O'Connor, Mark Trozzi, and Patrick Philipis, were scheduled to have their hearing early this month. However, only Mary O'Connor and Michael Swinwood, the defendant's lawyer, attended the hearing conducted through Zoom.
Rochagne Kilian claimed that her lawyer was rushed to the hospital for a serious illness that required intensive care. Because of this, they had to delay the hearing on her case.
The aforementioned doctors are being sued for giving false medical certificates to patients so that they can be exempted from taking the COVID-19 vaccine.
During the hearing, Michael Swinwood argued that the COVID-19 pandemic was intentionally created in order to limit the increase in population. He also compared the COVID-19 restrictions of Canada to the regulations of Nazi Germany implemented during their time.
Such a spread of COVID misinformation in Canada is not only occurring in Ontario. There are more of them across the country.
Other individuals from the medical field are concerned about such statements coming from licensed doctors. It makes citizens more hesitant to take the COVID-19 vaccine because a doctor, who is supposed to be credible, is making claims about vaccine effectiveness that contradict the evidence.
With a multitude of information being presented to the public, it becomes more and more difficult to determine what is reliable and what is not.
Doctors are not Acting on Their Own; There's a Network of Them
Some physicians who promote COVID misinformation in Canada seem to be utilizing the website "Enable Air". Through this website, patients can request medical certificates that can serve as proof of exemption from the COVID-19 vaccine and masks. Patients have to send in a request and pay a fee to obtain the document they want.
Later on, the website was taken down. However, it was made live again.
Some journalists found details of a doctor named Gwyllyn Goddard on the website by looking through the HTML code. When they contacted the doctor, he claimed that he was unaware of the existence of such a website. He said that he sold his number years back, so that's why it must have ended up on the site. He didn't answer any more questions.
Doctors on Tour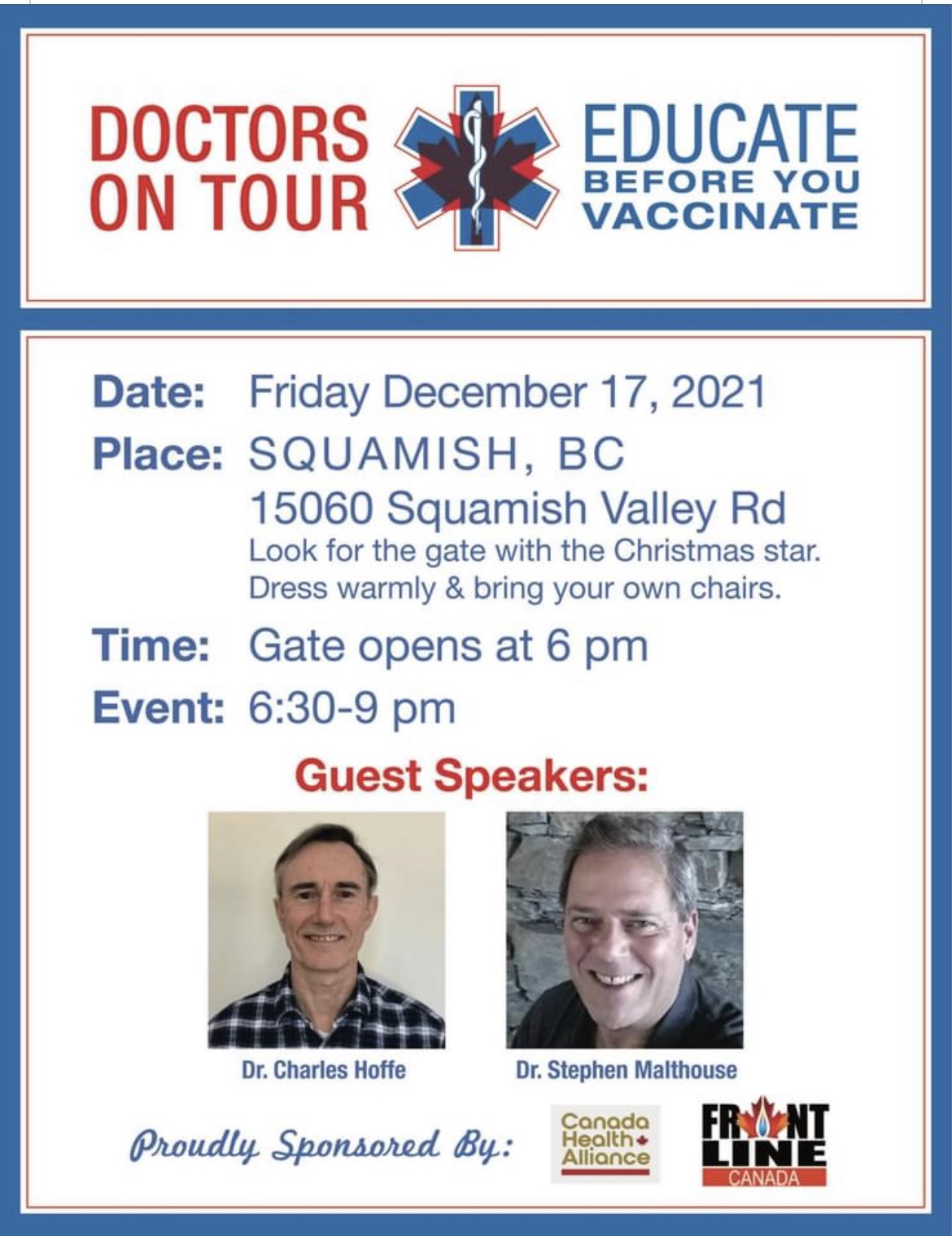 Dr. Stephen Malthouse, a prominent anti-vaccination medical professional, is part of Doctors on Tour. This is a group of doctors that travel around Canada in order to inform and convince the general public that vaccinations are dangerous.
A video was posted online wherein Malthouse can be seen encouraging the enthusiastic crowd surrounding him. He said that the individuals have an important task of making it known to more people that vaccines can kill children. Together in this video with Dr. Malthouse was Dr. Charles Hoffe.
Hoffee then claims that he previously worked at St. Bartholomew's Health Center in Lytton, where no one was admitted for COVID-19.
However, Interior Health said that there were no inpatient beds available in St. Bartholomew's Health Center. Naturally, patients who needed intensive care services would not have gone to the health center. Rather, they would be referred to Royal Inland Hospital since this is the closest hospital that can cater to such patients. This makes the statement by Hoffe questionable.
Furthermore, Hoffe also says that he conducted research that proves the dangers of the COVID-19 vaccine. He found out that more than half of the study participants had a positive D-dimer test following their COVID-19 vaccination. With these claims, he then believes that the COVID-19 vaccines are clot and death shots. These COVID-19 vaccines are responsible for many deaths, more than what has been observed with all the other vaccines available.
The statements by Hoffe go against all the information provided by authorized institutions such as the National Advisory Center on Immunization and the federal government.
Despite all the misinformation Hoffe has promoted, his license to practice is still active.
Canadian Covid Care Alliance (CCCA)
Hoffe is not alone in making such claims. Rochagne Kilian, previously mentioned as currently facing charges, posted a video on the YouTube page of CCCA stating what Hoffe has already said about the COVID-19 vaccine and the increasing number of patients developing blood clots associated with it.
The CCCA was established by Dr. Ira Bernstein to provide reliable health information for the benefit of the general public. On the website, there are videos of him sharing his practice of prescribing ivermectin for patients afflicted with COVID-19.
There was also a video that bears the name of CCCA that was posted on Rumble. The information stated in the video revolves around the COVID-19 vaccine produced by Pfizer. It claims that the vaccine did not undergo the proper health standards in its development. Its safety for pregnant women was also questioned, and they shared that Christian Eriksen, a prominent Danish football player, collapsed after receiving his COVID-19 vaccine.
All the aforementioned claims are against what health officials promote. It was also found that Christian Eriksen had not received any COVID-19 vaccine prior to the incident.
Kilian is currently unable to practice medicine legally because her license has been suspended. On the other hand, Bernstein can still do so since she did not meet the same fate as Kilian.
The CPSO said that the process of removing a medical professional's license is arduous and requires a firm basis with reliable pieces of evidence. They intend to solve such cases within 10 months. But, the time needed to do so can extend to years if the case proves to be too complex.
With all the information about COVID-19 going around online and in other communities, it is becoming increasingly difficult to determine its reliability. Statements by medical professionals that go against the evidence give more weight to the arguments of anti-vaxxers. The relevant institutions are then challenged to respond promptly to mitigate the damage caused by the spread of false information.