Expats who fell inlove with Thailand should check out this list of cheapest airlines to fly to Thailand (and from Thailand).
Thailand is an excellent place to visit on a budget, particularly when it comes to purchasing flights. Flying throughout this tropical country is a breeze, assuring quick trips and low pricing. Meanwhile, Thailand's center location makes it an ideal starting point for exploring Southeast Asia, with Laos, Cambodia, and Vietnam to the east and Myanmar to the west. You may also easily book low-cost flights to neighboring nations on the southern peninsula, such as Malaysia and Singapore, and Indonesia is only a short distance away.
Thailand's busy tourism hub, is located in the country's center, Bangkok. Most international flights arrive in Bangkok before continuing on to smaller towns around the country. International flights often arrive in one of three major cities: Bangkok in the center, Chiang Mai in the north, and Phuket in the south. Flights from Chiang Mai in the north to Phuket in the south take just over 4 hours and are among the longest flights available.
Before we get into the cheapest airlines to fly to Thailand and from Thailand, you should know that Bangkok has two airports. Suvarnabhumi Airport (pronounced Su-var-na-poom) is the largest modern airport, located east of the capital in Samut Prakan province, and is where most flights, particularly international ones, arrive and depart. Domestic "higher-end" airlines are also based here. Don Mueang International Airport, near Rangsit, North Bangkok, is much smaller and older, and is currently largely utilized for cheap airlines and domestic flights.
Cheapest Airlines to Fly to Thailand
1. Thai AirAsia
Thai AirAsia is a Bangkok-based low-cost airline. It is a partnership between Thailand's Asia Aviation and AirAsia, Malaysia's largest airline with over 165 destinations in 25 countries. Thai AirAsia, founded in December 2003, is not only one of the most affordable ways to travel around Thailand, but it's also a fantastic airline. 
It is possibly Thailand's most popular low-cost airline, with a big number of passengers using it around the country, and is well-known for its low tickets and high-quality service. It serves AirAsia's frequent international and domestic flights from Bangkok by flying all throughout the country and to a few neighboring nations.
From early dawn to late at night, this airline has several flight alternatives for major destinations. They also provide some passenger alternatives and ticket customization, both of which come at a cost. The pun was intentional. If you want an in-flight meal or a specific seat, you must pay an additional fee. There is also the opportunity to upgrade to Premium Flex, which is a step higher from the usual fare. Each passenger is permitted 7kg of cabin luggage, but checked baggage is limited to 20kg. If your luggage weighs more than 20kg, you'll have to pay an additional 100-200 baht. Don Mueang International Airport serves as the airline's arrival and departure point.
2. Nok Air
Nok Air is a Thai low-cost carrier that began operations in February 2004. It went into service in July 2004. Everything the airline offers will be grouped together, as the name implies. Nok is a bird. The plane has yellow decorations to make it appear like a bird, and the flight attendants' outfit, you guessed it, is yellow. The airline offers complementary beverages, including snacks, drinks, and Wi-Fi, and its service is exceptional. The airline operates a number of flights throughout Thailand, providing you a wide range of possibilities. Customers have three options with Nok Airways: Nok Lite, Nok X-Tra, and Nok MAX, with the difference depending on the weight of their luggage, seating preference, and in-flight meals.
Nok Lite only permits a 7kg carry-on and no checked baggage. Nok X-tra allows you 15kg of extra checked luggage in addition to a 7kg carry-on. aThe Nok Max includes a great lunch as well as 7kg carry-on, 25kg checked luggage for domestic/local flights, and 30kg for international flights. Don Mueang International Airport serves as the airline's arrival and departure point.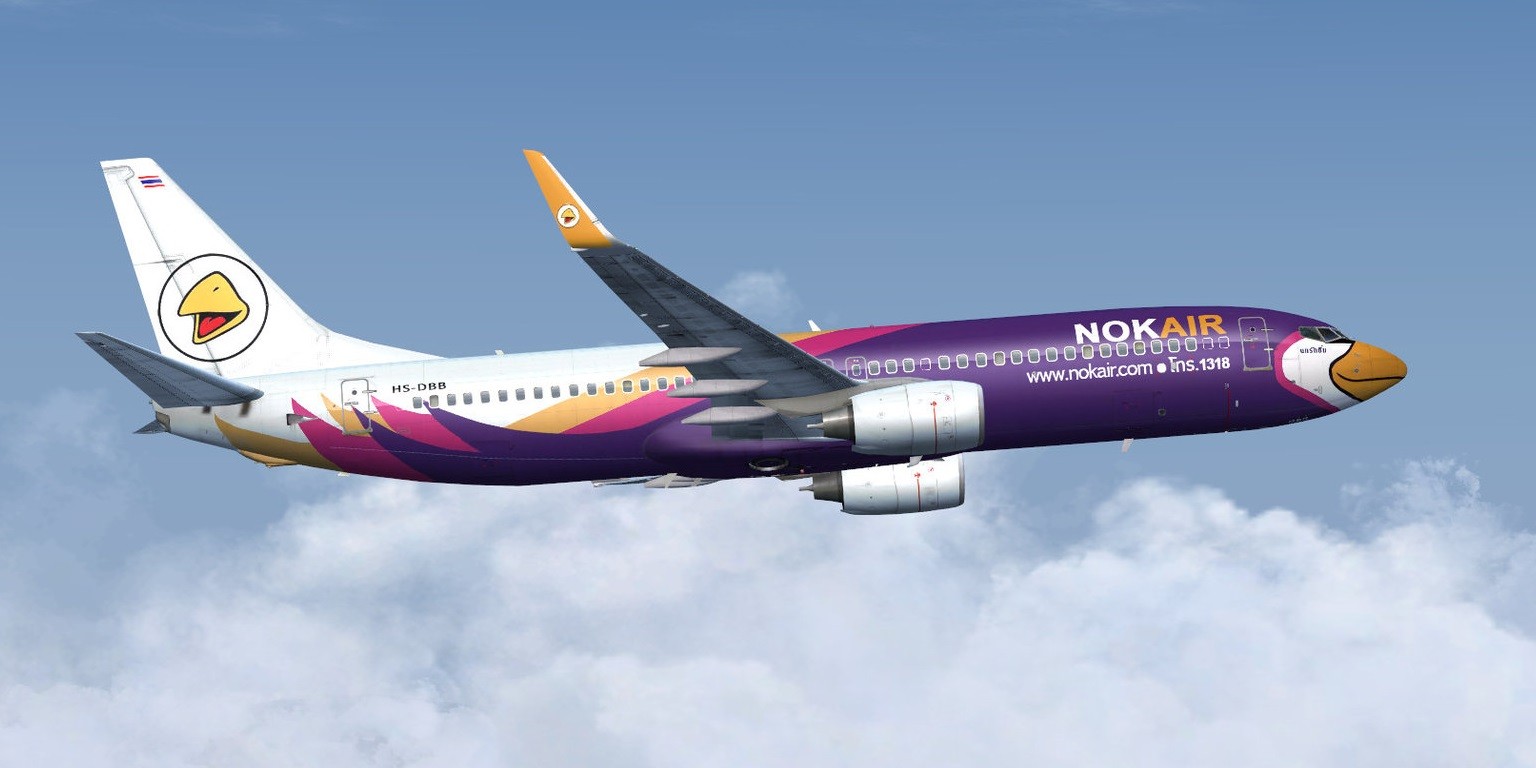 3. Bangkok Airways
Bangkok Airways is a regional airline situated at Suvarnabhumi Airport in Bangkok. It travels to both domestic and international locations in Thailand and neighboring Asian countries. What distinguishes Bangkok Airways from the competition is what they provide in the same price range. It operates private lounges in a number of Thai airports. Before boarding the plane, you may enjoy complimentary food, beverages, and Wi-Fi. It may cost a little more than other airlines at times, but if you appreciate the lounge and the minor things, this is the airline for you. When purchasing a flight with Bangkok Airways, you have a few alternatives. Each client is permitted a luggage allowance of 20kg.
4. Thai Smile
Thai Smile is Thai Airways' low-cost carrier, which commenced operations in 2012. Thai Airways' board of directors announced plans in May 2011 to launch Thai Wings, which was later renamed Thai Smile. You'll get a 20-kilogram baggage limit, which is a significant improvement over the other rivals on the list. Customers will have four different fare options to choose from to meet their preferences and needs. If you are particular about where you sit on a flight, you will be relieved to hear that you may choose your seat up to 90 days before your scheduled flight.
The 'saver' option is less expensive without sacrificing many perks. It serves a wide range of domestic and international destinations. Saver, Value, and Flexi plans provide a 20kg luggage allowance in Thailand and a 30kg limit on international trips. The plus plan includes a 30kg luggage allowance in Thailand and a 40kg allowance for international travels. Suvarnabhumi Airport serves as the airline's arrival and departure point.
5. Thai Lion Air
Thai Lion Air, a subsidiary of Indonesian carrier Lion Air, is the next firm on our list. This low-cost Thai airline was founded in December 2013 and operates out of Don Mueang International Airport. As of 2021, it has a fleet of 12 aircraft, including three Boeing 737 737 MAX 100s that were grounded after the 737 MAX 8 used in Flight 610 from its mother company Lion Air crash landed into the Java Sea minutes after taking off from Jakarta in October 2018. The Indonesian government has lifted a ban on the aircraft, allowing Thai Lion Air's 737 MAX fleet to return to the sky in 2022, after receiving the necessary equipment improvements.
But Thai Lion Air isn't the only carrier keen to get their stranded planes back in the air. Two years into a worldwide epidemic, the infamous aircraft is back in high demand by budget carriers throughout the world, which are betting big that it will be critical to remaining competitive in an increasingly constrained market. So don't be shocked if your next low-cost travel to or from Thailand is on a 737 MAX — and you wind up appreciating the passenger entertainment system and lots of legroom. For those who are wondering about the luggage allowance, all domestic flights provide a free 10 kilos.
6. Thai VietJet Air
Thai VietJet Air, the favored airline of Thaiger CEO Tim Newton, rounds off our list of low-cost carriers. Thai VietJet Air is a low-cost Thai airline based at Suvarnabhumi Airport that was founded in 2015 in collaboration with its Vietnamese parent business, VietJet Air. It's famous for its dirt-cheap flights on small planes, where you can find yourself crammed shoulder-to-shoulder with strangers on your row like a sardine can. The airline predominantly flies locally, with no less than 12 domestic destinations, as well as a few popular international routes to India, Singapore, Taiwan, and Vietnam.
However, the cheapest tickets sometimes come with a stipulation: be wary of surprise surcharges for checked and carry-on baggage, as well as occasional flight delays. Skyboss tickets on Vietjet Air flights include a checked baggage allowance of 30 kilos, however other tickets, such as Promo and Eco, do not.
What can you say?
That concludes our ranking of the cheapest airlines to fly to Thailand (and from Thailand) in 2022. So, what is your favorite low-cost airline in Thailand? Is it on the list?