Take the youngsters on a trip to the best Berlin museums for children. There, children can have fun and learn something new at the same time.
With the COVID-19 restrictions in the country being lifted and the COVID-19 vaccination program for those below the age of 12 underway, children can finally go out of their homes with the appropriate protection against the COVID-19 virus.
In deciding where to go, Berlin museums for children should be at the top of the list. These museums provide kids with the opportunity to explore, play, and try new things they haven't done before.
A List of Berlin Museums for Children
1. ANOHA – The Children's World of the Jewish Museum Berlin
Upon entering the ANOHA, visitors will be greeted with a gigantic wooden Noah's ark. Don't be surprised, but the ark is 28 meters in diameter and 7 meters tall. Those who are interested in architecture will not be disappointed in this creation by the firm Olson Kundig Architecture and Design.
As it is written in the Bible, Noah brought different animals into his ark to save them from the great flood. The ANOHA museum did not miss that very important feature. There are 150 animal sculptures scattered throughout the museum. These sculptures were created with much resourcefulness as recycled and everyday items were used.
Children will come face-to-face with snakes, mammoths, unicorns, and even cockroaches. No animal is truly left behind. These sculptures are sturdy, and children can climb on some of them.
There are also exploration stations where children can, well, explore. Different activities that can be done alone or by a group and among various age groups are available. One of the activities that needs teamwork is the saving of the animals from the flood. Specifically, a polar bear needs the strength of the children to pull it inside the ark so that it won't be swept away by the waters.
Children must be accompanied by an adult to enter the museum. At the same time, adults can only enter when they are with children. However, if adults want to explore the ark on their own, they can book a tour on Saturdays and Sundays for a small fee of 3 euros.
Cost of Tickets: Free, except for the Adult Tours
Opening Hours:
Monday: closed
Tuesday-Friday: 9 a.m. to 1 p.m.
Saturday-Sunday and public holidays: 10:30 a.m. to 4 p.m.
2. Computer Game Museum (Computerspielemuseum)
One of the Berlin museums for children, or maybe for the children at heart as well, takes its visitors through the evolution of video games.
The Computer Game Museum is the first museum in Europe dedicated specifically to video and computer games. Visitors would feel as if they were traveling back in time with the exhibits showcasing the Pong-Machine, PainStation, and PolyPlay. Even the Nimrod, which was the first gaming computer in the world, can be found in the museum. But that's not all. There are as many as 300 rare and fully functional games on display.
There is also a "Wall of Hardware" where there are 50 toys included. It ranges from the Apple II, Commodore PET, Atari, and Vectrex.
The ever-popular Playstation, which was released decades ago, is also on the list of things visitors should not miss.
But, visitors won't just marvel at these all-time classics. One of the best things about the Computer Game Museum is that individuals can actually play some of the games, such as Donkey Kong, Asteroids, and Space Invaders, in the penny arcade. There is no need for coins, even if there are slot machines available. Visitors can experience them for free.
The museum isn't just about the past. It also looks forward to the future. 3D simulators are available so that individuals can enter the spheres of virtual reality.
Everything and anything related to video games is in the museum. Here, visitors will truly "experience 60 years of gaming history and culture."
However, for those who want to visit the Computer Game Museum but can't, an online museum has been created. Although it is a different experience from being in the museum itself, it is still a great opportunity to learn more about the different game machines that have played an important role in the history of computer games.
Cost of Tickets: 9,00 EUR
Operating Hours: everyday, 10 a.m. to 8 p.m.
3. Extavium
Natural sciences are what the Extavium museum is all about. But not the complicated part of it. Rather, it focuses on making science easily understandable by children.
At the same time, learning science doesn't just have to come from textbooks. In the museum, children can explore and make use of their five different senses to deepen their knowledge of science. There are as many as 80 interactive exhibits that visitors can participate in. Children can even freeze their own shadows. Sounds impossible? Well, the only way to find out is to visit Extavium.
Budding scientists can also take part in any of the experimental courses offered by the museum. They run for 30 minutes each and are guided by an employee who knows the ins and outs of science. However, because of the COVID-19 pandemic, only the Goo course is being offered at the moment. Don't fret, though. It is still a fun activity where kids make use of pipettes, jars, food coloring, and other materials to create their own goo.
Cost of Tickets: 9.00 EUR
Operating Hours:
Friday-Saturday: 10 a.m. to 12 p.m, 1 p.m. to 3 p.m., and 4 p.m. to 6 p.m.
Monday-Thursday (only during winter holidays): 1 p.m. to 3 p.m. and 4 p.m. to 6 p.m.
4. Youth Museum (Jugend Museum)
Children ages 10 to 18 years old, and even those outside of this age group, can learn more about the history and culture of Germany in the Youth Museum.
In the exhibition entitled "Villa Global", visitors can get to know a diverse group of actual people living in Berlin, featured in each of the 14 rooms that it has. This group consists of young children, the elderly, rappers, graphic designers, journalists, and courageous men and women who have pursued their dreams. Video interviews are played within each room where they talk about their lives. The rooms were also designed by the individuals themselves, so that visitors could truly get to know them.
This experience opens the minds of the visitors to different cultures and backgrounds. At the same time, it makes them realize that, despite differences, there is a common ground that unites human beings.
An award-winning permanent exhibition can also be found in the Youth Museum. The "Wunderkammer-Miracle Boxes" features 27 different crates. These crates are anything but ordinary. It is filled with mystery and different items that were once considered common in daily life.
Cost of Tickets: Free
Operating Hours:
Saturday-Thursday: 2 p.m. to 6 p.m.
Friday: 9 a.m. to 2 p.m.
5. Labyrinth Children's Museum
There is no better way to learn as a child than through play, and the Labyrinth Children's Museum promotes just that. They live by the motto "learning by making and doing."
What was once an old match factory has turned into every child's dream. Visitors will never run out of fun things to do. There are areas where children can play, create arts and crafts, and conduct science experiments.
Every 16 to 18 months, visitors will have something new to experience in the museum since the management changes the exhibitions by then. Compared to other museums more suitable for adults, children don't just get to look at the pieces showcased. Rather, they can freely touch them so that they can learn more about the theme of that exhibit. The themes vary from human rights to health, prejudices, and fairy tales.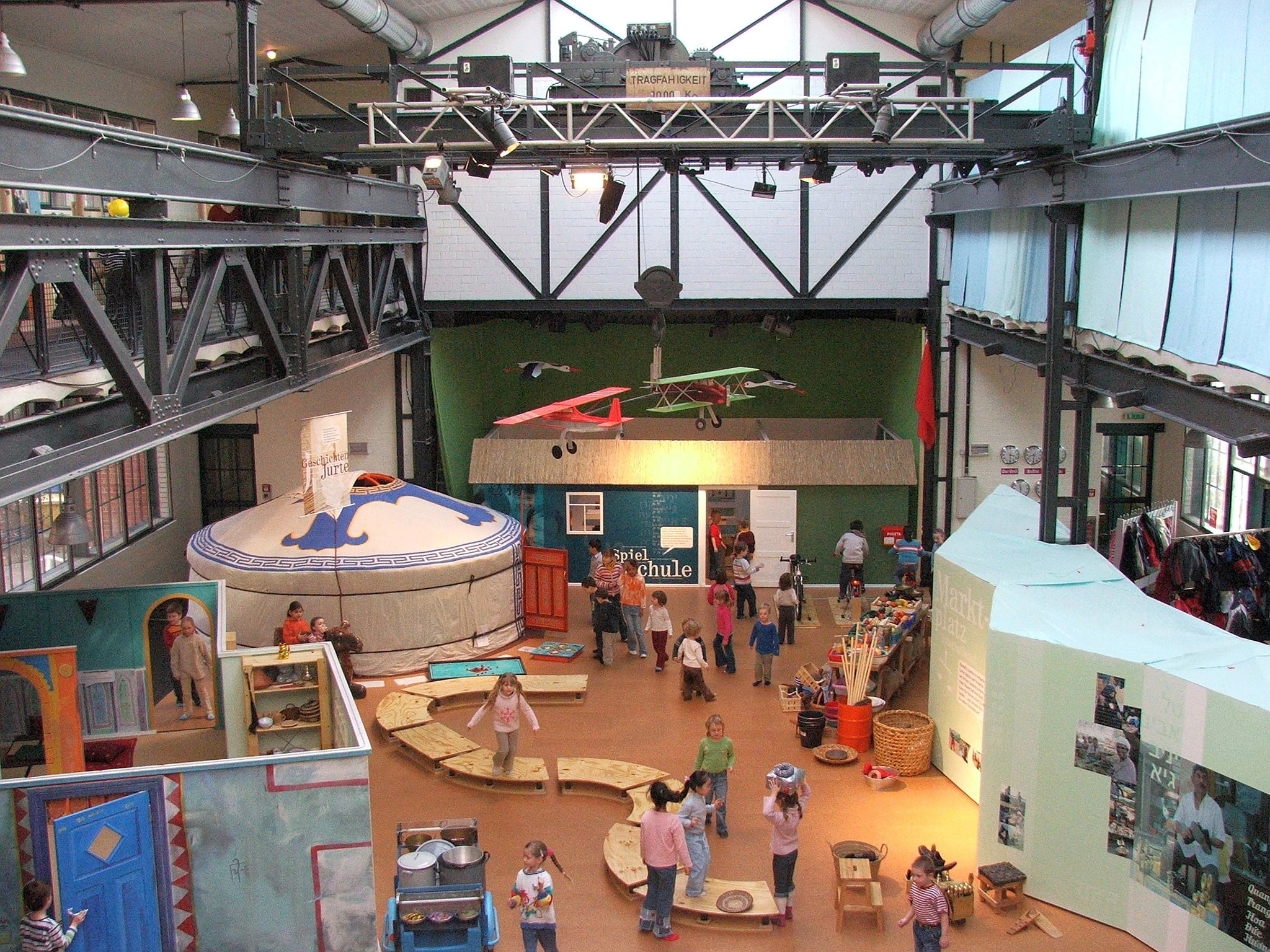 Currently, there is an environmental exhibition where children can learn about biodiversity and steps to combat climate change.
Apart from the exhibits, the museum also holds events. The latest one, which will take place on February 26 of this year, is only for children. Parents will not be able to participate. More than that, the event will take place at night. This will be a different but exciting event all at the same time. However, parents do not have to worry about leaving their children on their own. The museum has made the necessary preparations to ensure the safety of the children. Parents will also be given tips for going out. 
At this event, called "At Night in the Museum," children can discover various wild animals and go on a treasure hunt. These activities will all be done in the dark. The night at the museum will not end when the lights are turned on. Children can create handicrafts and play around afterward. This event costs 16 to 18 euros and is open to individuals ages 8 to 12 years old.
Cost of Tickets: 6.50 EUR
Operating Hours:
Thursday: 9:00 a.m. to 1:30 p.m.
Friday: 9:00 a.m. – 6:15 p.m.
Saturday-Sunday: 11:00 a.m. – 6:00 p.m.