With this top 42, you'll learn about some of the most popular traditional Swiss food eaten by Swiss people on a daily basis, as well as other delicacies you've probably never heard of.
Switzerland, located in the heart of Europe, is known across the globe for its lakes, mountains, timepieces, and, of course, chocolate. Switzerland is a diverse country with many cultures and traditions. In truth, this lovely place is divided into three distinct regions, each with its own language, festivals, and religion.
This uniqueness resulted in a superb menu of foods, desserts, and beverages. Some are well-known, such as chocolate and Swiss fondue, while others are yet unknown to the general public.
TRADITIONAL SWISS FOOD
42. St. Galler Bratwurst
The St. Galler bratwurst is a typical Swiss sausage that is popular across the country, but particularly in St. Gallen. Veal, pork salt, white pepper, milk, and mace are used to make the sausage. Celery, ginger, cardamom, lemon, onion, and coriander can be added to the mix, but it's not required.
It's packed inside swine intenstines, then grilled or pan-fried once it's cooked (not smoked). The oldest version of this traditional Swiss food is one cooked with more than 50% veal, the OLMA (agricultural trade fair) version, and the biggest one, named St. Galler Kinderfest-Bratwurst, date back to the 15th century.
41. Tomme Vaudoise
Tomme Vaudoise is a Swiss cheese that has been passed down through generations. The cheese is created with raw cow's milk and aged for eight weeks. The texture is thick, yielding, and oozy beneath its very fragrant bloomy rind, which is marked with small indentations from maturing on racks.
The scents are mild, and the tastes are light, grassy, and acidic. It's suggested that you pan-fry the cheese and serve it on top of a salad, or use it in pasta recipes, with a glass of dry white wine.
40. Zuger Kirschtorte
The Zuger kirschtorte is a Swiss layer cake comprised of butter cream, sponge cake, and nut meringue layers. It is generally flavored with Kirschwasser, a cherry brandy, and it gets its name from the city of Zug, where it was created. At 1921, a pastry chef named Heinrich Höhn created the first cake in Treichler, a confiserie and coffee restaurant.
Traditionally, toasted almonds are used to garnish the sides of the cake, while icing sugar is used to delicately coat the top. This delectable dessert was enjoyed by Charlie Chaplin and Audrey Hepburn, among others.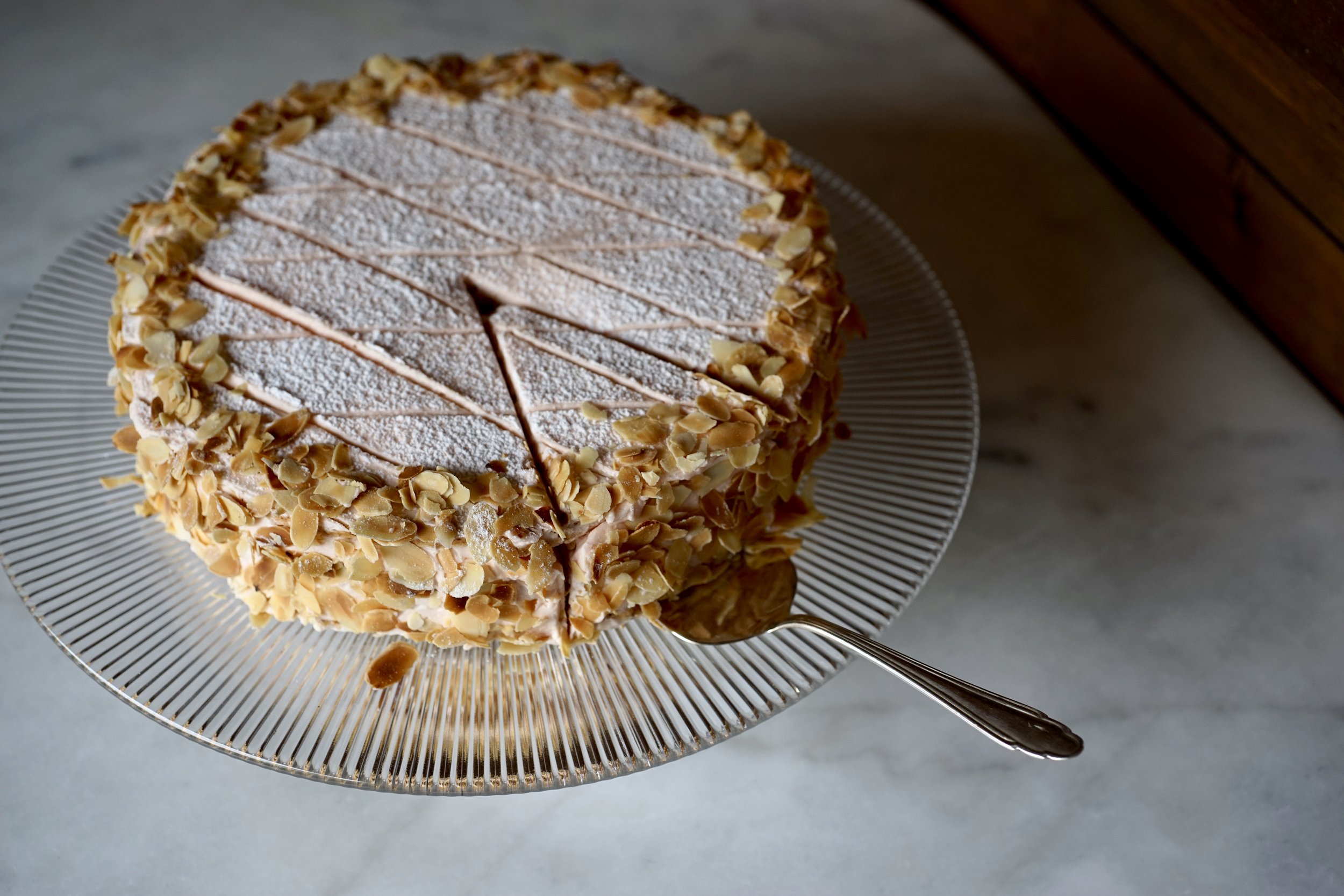 39. Berner Platte
Berner platte is a classic Bernese festive meal. It's a big platter of sauerkraut, beef, offal, potatoes, and green beans. the green beans are sautéed in butterThe meat, vegetables, and side dishes are all prepared separately and then served together on the same plate – the meat is frequently boiled with onions and bay leaves, the potatoes are boiled and fried with butter and chives, the green beans are sautéed in butter, and the sauerkraut is typically cooked in white wine with currants and bacon.
Berner platte is sometimes served as an open buffet, with each individual selecting their own components for their (normal) plate.
38. Belper Knolle
Belper Knolle is a distinctive Swiss hard cheese that is fashioned like a little ball and is produced in Belp, thus the name. The name Knolle means tuber in German, and it refers to the form and style of the cheese, which is mostly used for grating.
Herr Glauser invented the cheese in 1993, and it is prepared from raw cow's milk. It's wrapped with ground Oberland black pepper after being flavored with garlic and Himalayan salt. Belper Knolle is normally aged for 10 to 15 weeks in caves, during which time it becomes stiff, flaky, crumbly, and exceedingly hard in texture, making it nearly difficult to slice; instead, use it shaved or grated.
37. Saucisson Vaudois
Saucisson vaudois is a typical Swiss sausage from the canton of Vaud in Switzerland. This sausage comes in a variety of flavors, but it's normally cooked using pork, fat, spices, salt, and sugar. It's usually smoked and dried. Its beginnings may be traced back to the Middle Ages, when humans discovered that smoked meat retained its taste for extended periods of time.
The sausage can be served cold or hot, and it's frequently accompanied by bread and local cheese. When served hot, it is served in thick slices with a variety of toppings. In some recipes, it can also be used as a mince. Saucisson vaudois en croute is a variant in which the sausage is wrapped in a crispy pastry with a filling on the interior.
36. Swiss Chocolate Truffle
The Swiss chocolate truffle is a variant on the original chocolate truffle that needs boiling a mixture of dairy cream and butter, adding in melted chocolate, and then putting the mixture into preferred molds (traditionally round ones).
The chocolate truffles are rolled in cocoa powder once they have solidified, precisely like the French truffles. Chocolate truffles deteriorate considerably more easily and quickly than other truffle variations due to the freshness of the materials used in their creation.
35. Schüblig
Schüblig is a traditional Swiss pork or beef sausage. Nonfat milk, onions, and spices are commonly used in its preparation. Although the sausage is generally eaten fresh and uncooked, local variants are often gently smoked to enhance flavor.
Some folks, however, like them boiling or grilled.
34. Swiss Barley Soup (Bünder Gerstensuppe)
The roots of this hearty Swiss barley soup may be traced back to the mountainous Canton of Graubünden. Pearl barley, stock, carrots, potatoes, white cabbage, celery, leeks, dried or smoked meat, and cream are all traditional ingredients. Even while the soup is not difficult to make, it does take some time to bring out all of the flavors.
While skiing in the Alps, this thick soup is very popular as a lunch alternative.
33. Riz Casimir
Despite its unusual components, riz Casimir is a traditional Swiss food that dates back to 1952, when Ueli Prager, the proprietor of Mövenpick restaurant, first introduced it to the menu. Chicken, cream, coconut milk, rice, toasted almonds, pears, pineapples, peaches, and a variety of seasonings such curry powder, chile, cinnamon, cloves, garam masala, and bay leaves are used to make the meal.
Although riz Casimir was at its pinnacle in the 1950s, it is now frequently acknowledged as a favorite meal among individuals of all ages throughout the country.
32. Swiss Fondue
Some consider this original Swiss fondue to be the greatest of all fondue varieties. It's a Valais specialty made with tomatoes or tomato paste, white wine, butter, garlic, shallots, and shredded Gruyère and Emmental cheeses.
Instead of the normal slices of bread for dipping, tomato fondue is traditionally served with potatoes.
31. Älplermagronen
Älplermagronen is a rustic Swiss cuisine that can be translated as Alpine macaroni, although it is more generally known as herdsman's macaroni. It was invented in the 1930s. Although there are many variants on this Swiss staple, the main components are macaroni pasta (typically hörnli, a tiny, curved, tubular noodle kind), cheese, onions, and potatoes.
Herdsmen keeping an eye on their cows grazing in the Alpine pastures have access to all of the components needed in the recipe. The simplest form consists of stacking cooked pasta and potatoes with cheese and cream, then baking the mixture and serving it with onion rings, applesauce, and bacon on top.
30. Birnbrot
Birnbrot, a wonderful Swiss delicacy, is a pastry filled with dried pears as the main component. Walnuts, raisins, dried figs, some form of alcohol (typically brandy), and spices like cinnamon, cloves, coriander, and anise are all possible additions.
Birnweggen is another name for this pastry, but the two are not the same since birnweggen is made by spreading the filling on the dough and then rolling it like a roulade, but birnbrot's filling is totally encased inside the dough.
29. Hefekranz
Hefekranz is a somewhat sweet yeast bread packed with raisins and flavored with lemon zest and formed like a wreath. It is widely consumed in Switzerland and Germany, particularly during Easter and Christmas, when it is customarily produced in many households and bakeries throughout the country.
Hefezopf is the German name for it, and it's frequently braided rather than formed into a wreath. The first hefekranz is thought to have been constructed in 1256 by the first Bakers' Union in Switzerland.
28. Schabziger
The classic Swiss cheese Schabziger is made in Glarus. It was made in a monastery in the 8th century and dates back to that time period. The cheese is also Switzerland's earliest protected brand; in 1463, a council meeting agreed that the cheese should be stamped with a seal symbolizing its legitimacy, which is still imprinted on Schabziger today.
The skimmed milk curds are matured for 8 weeks before being pulverized and mixed with ground fenugreek seeds in this lime-green, zero-fat cheese manufactured from cow's milk. After that, the cheese is flattened into a little cone called a stockli and covered with silver foil.
27. Carac
Carac is a little Swiss pastry made of a shortbread pie crust, chocolate, cream, and a layer of green frosting. It is particularly popular in the French-speaking regions of the country. Even though most of these pastries are made in smaller proportions, they may be expanded and served cut, exactly like conventional pies or cakes, for special occasions and parties.
The origins of carac are unknown, although it is known that the pastry was accessible in the early twentieth century, and the term carac is phonetically tied to caraque, a high-quality chocolate.
26. Papet Vaudois
Papet Vaudois, a delectable hotpot of leeks and potatoes stewed together for hours until they attain the consistency of a papette, or mash, is deeply ingrained in the canton of Vaud as one of its traditional Swiss food. This substantial vegetable side dish is often seasoned with cream, white wine, or vinegar and is traditionally served as a bed for saucisson Vaudois, a renowned smoked pig sausage.
25. Jambon de la borne
Jambon de la borne is a smoked ham made in Fribourg, Switzerland. Jambon de la borne is made with well-chilled, fresh pig leg that has been properly rubbed with salt, sugar, saltpeter, and spices like pepper, cloves, juniper, and bay leaves. It must rest in a mixture of salt and spices for at least 6 weeks before being smoked – solely with wood-fired smoke.
This preserved delicacy is best served as an appetizer with bread pieces or as a flavor enhancer in savory entrees. Jambon de la borne is also an essential component of a traditional Thanksgiving feast in Bénichon, Fribourg.
24. Vacherin Fribourgeois
Vacherin Fribourgeois is a semi-soft Swiss cheese with a long history. In Bulle and Fribourg, it's produced from raw cow's milk. On the Alpine meadows, the cows only feed on grass and summer hay. The rind has been cleansed and has a strong odor. The texture of the inside is open, firm, and buttery.
The tastes are buttery, nutty, creamy, and acidic, with strong green odors. The cheese is tough to come by since it is only made by a few local artisanal cheese manufacturers. Classic (6-12 weeks), Extra (at least 12 weeks), Rustic (at least 12 weeks and up to 25 weeks), Alpage (12-25 weeks), Mountain (9-25 weeks), and Organic are the six kinds of Vacherin Fribourgeois (at least 9 weeks).
23. L'Etivaz
The classic Swiss cheese L'Etivaz is made in the Canton of Vaud. L'Etivaz is reported to be created in the same way as Gruyère was made many years ago, without altering the original flavor character. Raw cow's milk during the summer months is used to make the cheese.
It's cooked in copper vats over an open wood fire, and some ashes may fall into the open vats, giving the cheese a little smokiness when eaten. L'Etivaz has a fragrant aroma and a deep, creamy texture, with fruity, nutty tastes with a tinge of smokiness.
22. Basler Läckerli
Hazelnuts, almonds, candied peel, honey, and Kirsch make up Basler läckerli, a firm, flavored Swiss cookie. These cookies are a speciality of Basel, where they have been made since the Middle Ages, according to legend. The biscuits are usually sliced into rectangular pieces after baking and then glazed with sugar.
They are most commonly consumed around the Christmas season, but they may be purchased or cooked at any time of the year.
21. Capuns
Capuns are a typical Swiss dish that originated in Graubünden. It's so popular that there's no one-size-fits-all way to make it; practically every family in the region has their own version, although it's normally prepared with a mix of dried pork and spätzle dough wrapped in chard leaves.
The ingredients are sautéed in butter before being carefully boiled in stock and cream. The meal is often topped with fried bacon slices and grated cheese after it has been made.
20. Vacherin Mont d'Or
Vacherin Mont d'Or is a typical Swiss cheese from the area near the Mont d'Or on the French border. The cheese is prepared from thermalized cow's milk and is only accessible from October to April, making it a very seasonal and rather unusual item.
It's not to be mistaken with Vacherin du Haut-Doubs or simply Mont d'Or cheese, which is created entirely in France from raw cow's milk. The interior of Vacherin Mont d'Or is covered in spruce to keep the liquid and melting contents contained.
When the cheese is at room temperature, it's best to consume it with a spoon because of its mild flavor and melting, creamy texture.
19. Landjäger
The semi-dried sausage Landjäger is popular in Switzerland, Germany, France, and Austria. Pork, beef, fat, red wine, sugar, and certain spices are commonly used in its preparation. The sausage is first pressed to get its characteristic rectangular cross-section, after which it is smoked and dried.
Landjäger refers to the fact that these sausages are exceptionally practical and popular with back-packers and hunters who bring them with them when traveling.
18. Wähe
Wähe is a delectable Swiss tart that comes in both sweet and savory varieties. Seasonal fruits including plums, apricots, rhubarb, and apples are used in the sweet form, while cheese, spinach, and onions are used in the savory version, which is comparable to the French quiche.
The original varieties of wähe are thought to have been prepared at home with leftover bread dough. Even though wähe was once considered a poor man's dinner, it gained popular among the middle class throughout time and was frequently enjoyed while fasting or on Fridays.
17. Zürcher Geschnetzeltes
Zürich-style veal, also known as Zürcher geschnetzeltes, is a traditional Swiss food made with sliced veal strips, cream, beef stock, white wine, and sometimes mushrooms. It first appeared in cookbooks in 1947, but it is now regarded one of the classic recipes with origins in the Zürich region.
Salt, pepper, paprika, and lemon juice are commonly used to season the meal. The most typical accompaniment is potato rösti, although it can also be served with mashed potatoes, rice, or tagliatelle pasta on the side.
16. Swiss Tilsit
Swiss Tilsit, also known as Royalp Tilsit, is a cheese made in the Emmental Valley in Switzerland. Pasteurized or raw cow's milk is used to make the cheese. The pasteurized form is mild, and the raw variant, known as Farmhouse Tilsit, has a stronger flavor.
Pasteurized milk is used in the third variant, along with cream. The scents are rich and pungent since the cheese is matured for 5 months. The texture is strong, springy, elastic, and full of eyes beneath the washed rind. Mild and smooth to peppery and spicy, the tastes are diverse.
15. Sbrinz
Sbrinz is a hard cheese manufactured in Switzerland from raw cow's milk. The cheese has a natural rind and a rich, flaky feel. The scents are a little peppery, and the tastes are rich, strong, acidic, spicy, and nutty, with butterscotch undertones.
Sbrinz is usually aged for at least 18 months, and as it matures, it gets more fragrant. It may be eaten in three ways: it can be sliced or shaved into thin rolls after 18 months, broken into smaller pieces called möckli after 24 months, or grated and used in a variety of cuisines after 24 months.
14. Saffron Risotto
Saffron risotto is a Ticino delicacy cooked using Valais-grown Swiss saffron. This hand-picked, dark red saffron is known as "red gold" since it is one of the greatest in the world. Aside from that, the recipe includes rice, butter, tomatoes, meat stock, onions, garlic, and veal and bacon.
Thyme, salt, and pepper are commonly used to season it. The end product is a creamy risotto with a distinct scent of Swiss saffron.
13. Fondue Bourguignonne
Fondue Bourguignonne, despite its French name, is a Swiss dish. It all began with field laborers who were unable to return home for a meal. During their break, they began carrying pots of oil to the field and arrived to cook pieces of meat (beef brought from Burgundy, France, hence the name).
Today, beef is the most typical fondue meat, but mixed meat fondues, which include pig, chicken, and liver, as well as other vegetables, are also popular. To avoid hot oil-related catastrophes, it's critical to utilize a robust fondue pot.
12. Cervelat
The most popular Swiss sausage is Cervelat, which is produced from pork or a mix of pig and beef. It is normally delicately seasoned with mustard, garlic, and chosen herbs and spices in Switzerland, but the German cervelat is made with a combination of pig, beef, and bacon.
The sausage is cured, dried, and smoked before being eaten raw or cooked, however it can alternatively be grilled over an open fire with its ends sliced and enlarged.
11. Swiss Meringue
Swiss meringue is a light and airy mixture made from egg whites and sugar that is fluffier than its French version and as stable as its Italian cousin. The ingredients are whisked continuously over a bain-marie until they cool and form a thick, glossy meringue, which is then baked.
Buttercream frostings, pavlova, meringue cookies, and other meringue-topped pies frequently utilize it as a basis.
10. Tête de moine
Tête de moine (literally, monk's head) is a semi-hard Swiss cheese manufactured from cow's milk that is cylindrical in shape. Before being consumed, the cheese is aged for at least 2.5 months on spruce wood boards. The cheese is thought to have been invented by monks at the Bellelay monastery in the Saicourt hamlet.
They used to utilize it as a kind of payment. Tête de moine is scraped or shaved using a specific instrument called a girolle, rather than cut. The surface of the cheese comes into direct touch with air throughout the process, which changes the structure of the paste and aids in the release of fragrances.
9. Appenzeller
Appenzeller is a Swiss cheese made in the Appenzell region of Switzerland. It's prepared with raw cow's milk and rinsed with a secret herbal brine on a regular basis while maturing. It's ready to eat after three months, and the longer it sits, the spicier it becomes.
The texture of this hard cheese is solid, open, and smooth, with acidic, peppery, and fruity notes. Appenzeller comes in three varieties: Classic, which is 3 to 4 months old, Surchoix, which is 4 to 6 months old, and Extra, which is 6 months or older.
8. Rösti
A crispy crusted potato pancake with an attractive golden hue, rösti is a simple, buttery, and aromatic traditional Swiss food. It goes well with classic Swiss dishes like leberspiesschen (grilled calves' livers wrapped in bacon and sage) or émincé de veau.
Boiled, peeled, cold potatoes are sliced into long strips and fried in butter, oil, salt, and maybe bacon grease for rösti. After then, the meal is sliced into wedges and presented to ravenous diners. Herbs, onions, ham, or shredded cheese can also be included to improve the flavor of the meal.
7. Zopf
Flour, butter, yeast, milk, and eggs are used to make Zopf, a classic Swiss bread. It has a delicate texture and a braided look, comparable to that of Jewish bread challah. Traditionally, zopf is made throughout the weekend and served on Sundays with butter and fruit preserves.
The bread is thought to have been developed in the middle of the 15th century. Widows used to have their braided hair cut off and buried alongside their late husbands. Later, instead of hair, they cooked zopf and buried loaves of bread. The word zopf literally translates to "braid," referring to the bread's form.
6. Raclette
Raclette is a Swiss national meal that includes a somewhat nutty cow's milk cheese, a dish-preparation device, and a complete eating experience. Raclette was developed by Swiss mountain shepherds who used to congregate around a fire while roasting potatoes. It is extremely popular in the ski region Valais and other regions of the Swiss Alps, where it also originated.
When some cheese started to melt near the fire, they scraped chunks of it over the potatoes, and raclette was formed. The term "racler" comes from the French word "racler," which means "to scrape." Modern gadgets such as the raclette melter and raclette grill are utilized instead of a fireplace because few people have one these days.
5. Gruyère
Gruyère is a raw cow's milk cheese that has been boiled and pressed. The cheese has a grainy yellow to brown rind on the outside and is ivory to light yellow on the inside. The Swiss variety (AOP), a salty and nutty hard cheese, normally has no holes, although the French counterpart (IGP) is mandated to have them, which range in size from a pea to a cherry.
To produce subtle scents of caramelized apples, hazelnuts, and brown butter, Gruyère must be aged in cellars for at least 120 days. It melts well, making it excellent for traditional fondues or, alternatively, sliced and eaten on its own with a mild red wine.
4. Cordon bleu
Cordon bleu is a renowned worldwide cuisine that originated in Switzerland. It consists of a beef cutlet packed with a thin slice of ham and cheese (typically Gruyère), breaded, and either deep-fried in hot oil, shallow-fried in a skillet, or baked in an oven in its most basic form.
The dish is often made with two meat scallops stacked one on top of the other, with ham and cheese sandwiched between them. Cordon bleu was first mentioned in a cookbook published in 1949. The meal is now available in several variations, including veal cordon bleu, chicken cordon bleu, and cordon bleu with mushroom sauce.
3. Meringue
Meringue is a sweet, airy, featherweight treat prepared with just a few ingredients: egg whites, sugar, an acid like cream of tartar or vinegar, and the most vital, albeit invisible, component – air. Meringue is extremely adaptable and is typically used to transform desserts into works of art: it may be whipped into cake frostings, spooned over pies, integrated into cakes to make them fluffy, or blended with chocolate, fruits, and crushed almonds for added taste.
The origins of meringue are still a mystery, however according to Larousse Gastronomique, it was either made by Gasparini, a Swiss pastry chef of Italian descent, or by King Stanislas I Leszcynski's cook, because some think the word meringue derives from the Polish word marzynka.
2. Emmentaler
Emmentaler is a semi-hard Swiss cheese created from raw cow's milk that hasn't been pasteurized. It must be aged for at least 4 months, while certain kinds can be aged for up to 12 months. The pale yellow hue, silky texture, and marble-sized holes (eyes) that emerge during maturity distinguish the cheese.
Although the final flavor profile varies depending on maturity, the cheese is often nutty and tangy, with fresh hay-like scents. Emmentaler is generally served sliced or chopped into cubes, but it also works well in a variety of cuisines and is one of the most popular fondue cheeses.
1. Fondue
Fondue is Switzerland's national dish, a melting pot of distinct flavors and fragrances that reflects the country's diversity of people and cultures. It was initially mentioned in Homer's Iliad as a mixture of goat cheese, flour, and wine. Its name originates from the French word fondre, which means "to melt."
The main component in fondue is melted cheese, which comes in a variety of regional variations and tasty additives like cherry brandy, white wine, or a sprinkling of nutmeg. It was created out of necessity, when mountain inhabitants and wandering herders could only survive the winter on cheese, wine, and bread.